Talk about women in action! My weekend at the Artemis Film Festival
Me and my new friend swapping perpetu-rape-tion stories
So it happened! The Artemis Film Festival and the debut of my short documentary: Perpeturaped.
I was lucky enough to get to attend the event last week in Los Angeles with my mother and close friends. And yes, for those of you keeping tabs, I did go all the way from Barcelona. (for the weekend because I'm insane) That's why it has literally taken me almost an entire week to get myself together and write this.
It was a beautiful weekend (I know weather in LA is 'always nice' but c'mon it was absolutely perfect) full of celebration and love.
I was nervous for the event. I feel like every time I watch the film these days I have a different experience: one day proud, the next BARF.
But to see Perpeturaped up on the screen was much less cringe as I had imagined and a lot more happy teary. It really is something special to see a thing you've poured your guts into selected to be part of an event that has the same intentions as your own.
The festival celebrates women in action and what a celebration it was. At the awards gala, we witnessed badass ladies of all styles talking about how cool other women are - a dream come true really.
And not only did I get to watch my doc in a very cool LA movie theater (with incredibly comfortable seats might I add), but I was also lucky enough to be awarded 'Best Short Documentary Pro-Action'. Cue more tears.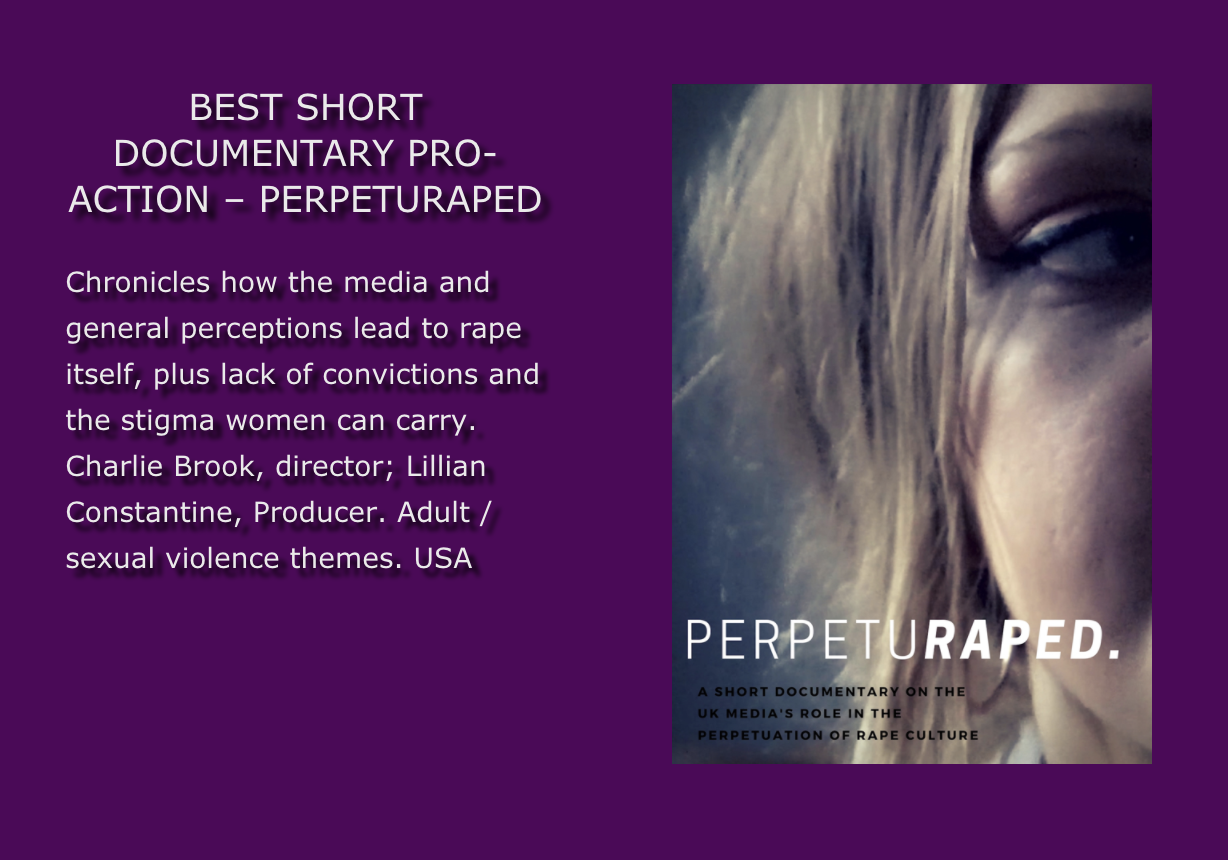 Perpeturaped won an award!
This documentary was really the culmination of years of feeling our rape culture but not knowing how to define it. It was the first step in my journey to finding my definition. And I plan on keeping it up.
With that, Perpetu-rape-tion reflection month has passed. (a few days ago now, I know. did i mention that i flew to LA from BCN for the weekend?)
But that doesn't mean that you won't get to hear more about how the media perpetuates rape culture! (lucky you) As I plan to continue doing that here on a regular basis.
So tune in for more - and always remember: it's a culture, people!